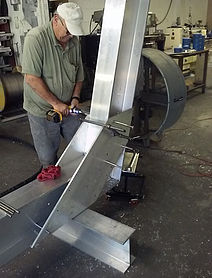 Synergy Boat Lifts was founded in 1984 by George Becker. George's background starts in northern New Jersey where he attended Trenton State College, graduating with degrees in Industrial Education and Industrial Technology.
George was in the boat lift industry for over 35 years. He previously owned one of the largest boat lift manufactures in the world. When starting Synergy Boat Lifts, George decided to use his education and experience to design, engineer, and manufacture a boat lift that boaters could depend on year in and year out.
That meant creating a boat lift where the individual parts worked in harmony with each other as opposed to one another. This led him to create innovative designs such as the Toggled Pulley System, a Bolted Aluminum Frame, and the use of Service Free Top Bushings, etc. George worked on innovative designs for his lifts until his retirement that further lead the industry with the most dependable boat lift on the market.
Synergy Boat Lifts epitomizes the fusion of over three decades of expertise in boat lift design and construction. Our primary goal remains to deliver a consistently reliable boat lift, ensuring that your planned days on the water aren't disrupted by lift malfunctions.
While all boat lifts share the fundamental purpose of raising and lowering vessels, what distinguishes Synergy Boat Lifts is our commitment to "intelligent design." Our precisely engineered components work seamlessly together, addressing common lift issues and resulting in a more dependable and enduring lift.
Synergy Boat Lifts boasts distinctive features, including an all-aluminum bolted frame that offers 35-40% more structural strength than conventional welded frames. This design eliminates concerns about weld integrity over time. Our innovative toggled pulley system operates horizontally to the cable shaft, reducing stress and wear on cables and pulleys compared to standard systems.
Furthermore, our Service Free top bushings eliminate the need for greasing, ensuring smooth cable shaft function without the mess. In essence, Synergy Boat Lifts guarantee unparalleled reliability, dependability, and peace of mind for your boating experiences. When comparing features and value across the market, we're confident that Synergy Boat Lifts will stand out.
Manufactured, engineered, and designed in the United States, our products come with a comprehensive warranty. Our aim is simple: to be your reliable boat lift manufacturer.
Galvanized Steel Lifts vs Aluminum Lifts
At Synergy, a significant part of our focus lies in crafting Aluminum Cradle kits to replace the corroded galvanized steel cradles. Those familiar with the industry will recall that lifts were predominantly made from galvanized steel. However, over time, most manufacturers recognized the superiority of aluminum as a medium. As prices have become more accessible, aluminum has become the standard. Our products are competitively priced, and utilizing aluminum results in a finished product that surpasses in both longevity and aesthetics.
Welding vs Mechanically Fastened (Bolted)
It's a common pitfall that many manufacturers face when transitioning to aluminum from steel. While aluminum can be excellent if welded properly with the right alloy and methods, it can also result in significant weaknesses if conditions aren't ideal. Welded heat-treated aluminum tends to be weaker than bolted counterparts, prompting many manufacturers to shift away from welding entirely and opt solely for mechanical fasteners. We align with these principles in our production methods.
Our all-aluminum boat lifts utilize 6061-T6 aluminum, typically available in the large structural shapes we use. The "T" in its description indicates heat treatment, providing the necessary rigidity for carrying heavy loads. However, welding this material reverses the heat treatment process, substantially reducing its strength.
At Synergy Boat Lifts, we've ensured that there are no load-bearing welds. While welding might offer speed advantages, our reliance on mechanical fasteners ensures greater strength and reliability. With industrial-grade gearboxes that are highly unlikely to fail, our lifts prioritize durability and long-term performance.
Direct Gear Drive vs Chain Drive
Gear driven boat lifts commonly employ a "double reduction" gearbox system. This setup involves a smaller gearbox linked to a significantly larger one, generating a mechanical advantage equal to the product of the ratios of both gearboxes. In practical terms, for every 450 motor revolutions, the lift completes one full revolution.
Gearbox Shaft Position
The Synergy Direct Drive gearbox embodies our "Intelligent Design" philosophy. Positioned internally at the bottom, this setup ensures that the gear contact surfaces are consistently immersed in lubricant. These gearboxes are specifically rated for 24-7 duty, making them exceptionally safe for the sporadic use typical of boat lifts.
Galvanized Steel Drive Shaft vs Stainless Steel Drive Shaft
Opting for a stainless steel shaft might seem advantageous, but it lacks the required torsion strength essential for a boat lift. Our structural engineer refuses to certify a lift equipped with a stainless steel shaft. At Synergy, we've devised a solution by wrapping our cables around a grooved aluminum winder, safeguarding the shaft against wear caused by cable abrasion. Moreover, we encase our shafts in extruded polymer bushings, completely maintenance-free. Our commitment extends to guaranteeing the parts and labor for our driveshafts throughout the ownership of your lift.
Stainless Steel Motors vs Painted Motors
At Synergy, we rely on industrial-grade, high-duty cycle motors designed for continuous operation in industrial settings. These robust motors, along with our gear drives, are fully enclosed within weather-resistant covers. Contrary to using stainless steel motors with limited longevity, we opt for painted motors where the investment is directed into the machinery itself.
Prior to shipment, we meticulously install the gearboxes, motors, and covers. The motor wiring is neatly routed into an outdoor-rated electrical box, eliminating the need for the electrician to dismantle the drive cover for wiring. This streamlined process serves as a significant cost-saving measure. Moreover, we stand behind our motors and gear drives with a 5-year warranty.
Cradles
The lift cradle comprises two or more aluminum "I" beams suspended by cables from the top beams. Typically, a sheave (pulley) is affixed to the end of the beam in many applications. The cable connects to the top lift, and its length can be adjusted at the deadman. While most lifts incorporate this feature, not all do. In cases where the cable isn't externally adjustable, installation costs and future cable replacement expenses tend to be significantly higher.
Cradle Ends
Synergy's cradle ends are engineered to bolt through the vertical web of the beam, the primary load-bearing component. The bracket's lower edge applies pressure against the bottom flange of the beam, while the upper section presses into the upper flange. This distribution of force across the entire end of the beam results in the strongest cradle end within the industry.
Attached to the upper section of these brackets is the pulley mount, precisely aligning the pulley with the cable winder. It's noteworthy how the cable enters and exits the pulley—tangent to the circumference, unlike the parallel configuration in Figure 3 (refer to the next page). This configuration minimizes pulley and cable chafing and wear, offering a notable benefit. Additionally, there's a grease fitting on the axle. Applying grease once or twice a year can significantly extend the lifespan of your equipment and save you money in the long run.
Synergy Cradle Ends Compared to Competitors
The bracket is designed to slide onto the top flange of the cradle beam, a horizontal section never intended to bear weight.

However, there's a critical issue with the orientation of the sheave (cable pulley). As the cables wind along the grooved winder in the top beam, they move horizontally, resulting in what's known as a fleet angle. This means the cables enter and exit the pulley at angles, causing significant wear on both the cables and pulley.

Moreover, in the same context, there's a missing grease fitting in the axle bolt. While "self-lubricating" bushings might work in specific scenarios, they don't serve the purpose of creating a barrier between the pulley and the mounting structure. Over time, without this barrier provided by grease, salt buildup can occur, leading to the pulley seizing. Repairing this could be an expensive endeavor.
Choose a Boat Lift that is Designed to Last & Just Makes Sense
We take pride in setting the industry standard with the strongest and most dependable boat lifts by prioritizing:
Mechanical Fastening Over Welding: While welding might be faster and cost-effective, our choice of mechanical fastening may take more time and cost a bit more, but it results in significantly stronger lifts.

Driveshaft Bushings: Our commitment to driveshaft bushings ensures their reliability, backed by a guarantee covering both parts and labor for as long as you own the lift.

Secure Hull Guides: Our hull guides are either "tabbed" on or securely fastened to ensure a robust and reliable setup.

Enclosed Motors and Gearboxes: The total enclosure of motors and gearboxes ensures optimal protection and durability against weather and environmental factors.

Cradle Sheave Mounts: By employing toggle mechanisms, we effectively reduce excessive wear on cradle sheave mounts, enhancing the longevity and performance of the boat lift.