All Aluminum Bolted Frame—Superior Strength
Synergy is the creation of a whole that is greater than the sum of its parts.
Synergy Boat Lifts represent the culmination of over thirty-five years of boat lift design and building experience by the founder, George Becker. We understand that boaters, fishermen, and outdoor enthusiasts want a boat lift that works—and that is our main focus, producing a superior boat lift that our customers can count on day in and day out. Our goal is to ensure you don't miss a planned day on the water due to a boat lift malfunction.
All boat lifts are the same.
True, but not true. Yes, the basic function of any boat lift is to raise your boat out of the water and lower back in. Hence, all boat lifts are the same.
However, it is important to note that how that is accomplished is what separates Synergy Boatlifts from the pack. Synergy Boatlifts uses "intelligent design."
We have designed, engineered, and manufactured our components to work safely in harmony with each other while eliminating some common problems that boat lifts incur. This produces a more reliable, dependable boat lift that you can trust every day, year in and year out.
A designed difference.
Synergy Boat Lifts features several unique differences.  An all-aluminum bolted frame that gives our boat lifts 35–40% more structural strength than conventional welded frame boat lifts.  There is no more worry about improper welds or welds structurally cracking over time.
Additionally, our toggled pulley system was designed to be horizontal (=) to the cable shaft as opposed to standard pulley systems that cross the cable shaft (+).
Our innovative toggle pulley system operates with less stress while decreasing wear and tear on both the cables and the pulleys, which translates to a more reliable, safe boat lift that will be there for you time and time again.  Also, our Service Free top bushings eliminate the messy process of using grease to ensure the cable shaft functions smoothly and properly.
The bottom line is Synergy Boat Lifts are the most reliable, dependable, and worry-free boat lift that you can depend on every day, year in and year out.  When comparing Synergy Boat Lifts feature-to-feature and dollar-for-dollar with any other lift on the market, we are confident you will choose Synergy Boat Lifts.
Synergy Boat Lifts are designed, engineered, and manufactured in the United States.
We offer a full manufacture warranty on all of our products.
We want to be your boat lift manufacturer.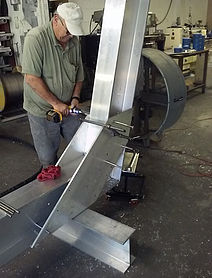 Synergy Boat Lifts was founded in 1984 by George Becker. George's background starts in northern New Jersey where he attended Trenton State College, graduating with degrees in Industrial Education and Industrial Technology.
George was in the boat lift industry for over 35 years. He previously owned one of the largest boat lift manufactures in the world. When starting Synergy Boat Lifts, George decided to use his education and experience to design, engineer, and manufacture a boat lift that boaters could depend on year in and year out.
That meant creating a boat lift where the individual parts worked in harmony with each other as opposed to one another. This led him to create innovative designs such as the Toggled Pulley System, a Bolted Aluminum Frame, and the use of Service Free Top Bushings, etc. George worked on innovative designs for his lifts until his retirement that further lead the industry with the most dependable boat lift on the market.