What makes us different?
Our all-aluminum bolted frame is the foundation that makes Synergy Boat Lifts the most trouble-free and long-lasting boat lift on the market today. We do as few welds as possible and bolt to ensure the strength of that area.
Our toggled cable pulley system eliminates cable twists and reduces the wear and tear on the cables, which makes for a more efficient, and longer-lasting boat lift.
Our number one goal is to design, engineer, and manufacture a superior boat lift that you can count on for the lifetime of your boat.
No Crossing or Twisted Cables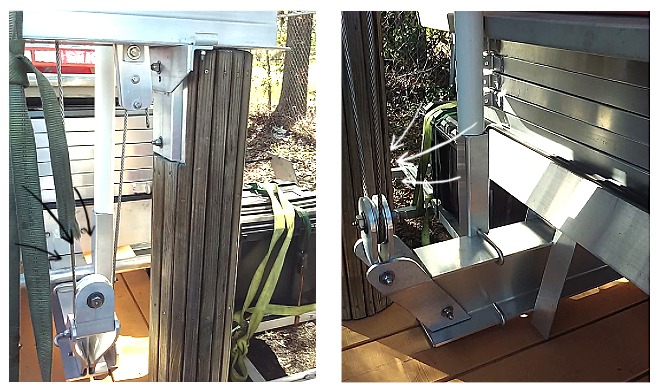 Why Invest in a Boat Lift?
Convenience. You will be able to go boating when you want. Easy on. Easy off.
Protection. Storing your boat on a lift as opposed to keeping it in the water or on a trailer offers many other advantages.

Protection from waves
Protection from algae build-up
Protection from paint deterioration

Save time & save money. Trailed boats are subject to travel time to and from ramps, ramp wait times, ramp fees, backing trailer issues, trailer maintenance (tires, lights, bearings, rust, license plate fees), towing accidents, owning the proper size vehicle, etc.
Increased property value. Let's not forget that a boat lift will add value to your home!